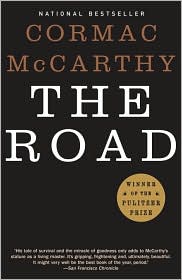 The Road by
Cormac
McCarthy
✭✭✭✭✭ (out of 5 stars)
Haunting, mysterious, and terrifying this book tell the story of a father and son walking to the coast in a post
apocalyptic
world.  We don't know how it happened but the world is covered in ash, and nothing lives.  They walk from town to town trying to find something
salvageable
in the wreckage.  They hide from others and keep to themselves, and for good (scary) reason.
I could not put this book down!  From the first couple pages I was hooked.  The stark and simple way it was written only added to the overall emotion of the book.
This was the first book I ever read by this author, I
definitely
plan on trying a couple of his other books.