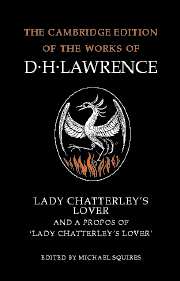 Lady Chatterley's Lover by D.H. Lawrence
✭✭✭ (out of 5 stars)
The story was a little slow at the beginning, it took me a good 125 pages to get into it, but it picks up a lot towards the end.  (And I did LOVE the ending, so it made it worth it.  In fact the last line of the book, made the whole story for me, perfect really.)  The writing was a bit old fashioned at first, but not difficult to read.  What I found fascinating was how modern and sex driven the book was, for when it was actually written.  
The story is about Connie, a.k.a Lady Chatterley, bored with a crippled husband and the proper life she must lead.  She finds herself, and love through a rather steamy affair, with Oliver (he is called by another name most of the book, but I like the name Oliver more).  I loved the characters, except for Clifford who I thought was a whiny baby, and for most of the book I felt like I was right there with them in Wragby.  Although a little slow, and way too much sexual content for me, I liked the book.
Rated: R- Lots and lots of sex, and sex talk.
Recommended:  In general, no not really...but to someone who I think may like this type of book, totally.