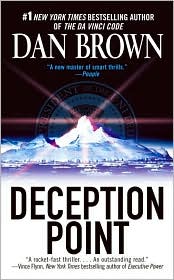 Deception Point   by Dan Brown
✭✭✭✭✭ (out of 5 stars)
Pretty awesome book, fast paced and FULL of action.   I love Dan Brown's writing style, his books always hook me on the first couple pages and I can't ever seem to put them down.  All I can say is super awesome, and watch out for the wicked twist at the end.
Recommended: Totally.
Rated: PG-13.  Mostly for violence, lot of things blowing up, the body count got pretty high...it was great!