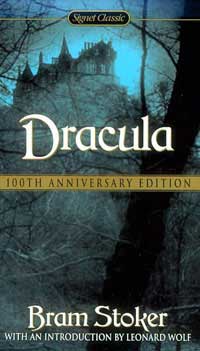 I am not entirely sure why I wanted to read this book, but I am glad I did. I got it as a gift for my birthday (thanks Laura) and maybe I was still on a vampire high from finishing up the Twilight series. It just seemed interesting.
I had never really saw any of the Dracula movies, or knew much about the book. So, I did not really know what to expect. Although a few years ago I did read this book called The Historian by Elizabeth Kostova. It had a lot to do with Dracula and the myths behind the legend. It was a really good book, although a little long. I found the book (Dracula) really interesting. I liked that it was written from multiple points of views, through letters and journal entries. It made the story a little unsettling, which added to the spookiness. I did not really think it was scary, but it did make me a little nervous....and oddly enough I had a lot of weird vampire dreams. I loved the Van Helsing character, he was so passionate in his work, I loved to read his part of the story. The only annoying thing was the female characters. I am not sure if it was the author, or just the era....but I found them to be so needy and whiny. Over all it was a good read, and made me want to explore some other "classic literature"....that I have always avoided reading until now. I haven't decided what I am going to read next...time for a Borders trip I think.
Has anyone ever seen the Dracula movies? I wanted to watch them, but heard they were really gross and didn't really stay with the idea of the book.