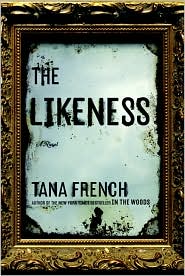 The Likeness  by Tana French
✭✭✭✭ (our of 5 stars)
I really really liked this book.  Much better than Tana's first novel, and an easier, smoother read.  She has a sharp and witty writing style, and I love the way she narrates the story.  In most books I usually get lost in all the descriptions and inner monologues, but not with this book...I loved Cassie and I wanted to know every detail of what was going on.  And a more satisfying ending than her disappointing
In The Wood
s, to boot.
Cassie Maddox goes undercover to find her doppelgangers, Lexie, murderer.  Not only do Cassie and Lexie look unbelievably alike, they share a name, one Cassie Maddox had used early in another undercover operation.  Where did Lexie come from, who killed her, and why?  I loved the thought, no matter how improbable it was, of her just dropping back into this dead girls life, trying to figure out the clues, and having to convince four of Lexie's room mates while she was at it.  Great read!
Rated: pg-13 Lots of swears.
Recommended: Yep, if you like cop/mystery/whodunit/thrillers.